Austin Shopping and Dining Guide for Fantastic Fest Newbies
One of the ways we assemble the Fantastic Fest roster is by attending other film festivals all around the world (what, do think these films just show up on our doorstep?). Cannes, Berlin, Pifan, Fantasia, Sundance, you name it, we've been there. Like a lot of other filmmakers and festival programmers and attendees, we love to go see new movies, but if we're in a new city then we also want to sample the goods of wherever we happen to be. We want to try local food, buy at local shops and return home with our bags (and stomachs) stuffed with crap that we couldn't find back home.
As you locals well know, Austin is one of those "You want it, we got it" kinda towns, filled with shops and restaurants unlike any to be found in New York, L.A. or any other major city is this big, wide world of ours. So with this in mind, Fantastic Fest presents our very own Austin Shopping & Dining Guide for all those who are here to not just see movies, but to take in the sights, sounds and tastes of a one-of-a-kind city. As most people will tell you, once you've gotten to know Austin, you'll have a hard time leaving.
SHOPPING
Room Service Vintage
- 107 E North Loop Blvd.
Hog Wild Vintage
- 100 E North Loop Blvd.
Austin is a big vintage town, without question (we've even seen garage sales rechristened "Vintage Sales") but the two vintage shops in town that everyone bows in admiration of are Room Service Vintage and Hog Wild Vintage, across the street from each other. The things you'll find there really run the gamut - vintage clothes, furniture, toys, books, magazines, and on and on - and the only thing that beats the selection is the pricing, which is always fair and affordable. Looking for cool stuff? Look no further.
End of an Ear
- 2209 South First Street
Waterloo Records
- 600a North Lamar
Antone's Records
- 2928 Guadalupe
As you probably know, Austin is a major music town, and there isn't a single record shop in town that we don't frequent at one time or another. But not to put the others down, it's End of an Ear, Antone's and Waterloo Records that earn our love the most. The selection in both is top-notch, vinyl is plentiful and both have excellent DVD selections, too. Knowledgeable staffs in both is a given. Antone's is filled with vinyl treasures, especially American roots music, great Texas and Louisiana regional blues, country and Cajun music.
Book People
- 603 North Lamar (across the street from Waterloo)
One of the leading independent book stores in the country, Book People is Austin's haven for those who love to read but hate having Celine Dion CDs, Wiggles DVDs and lattes thrown in their face when they walk in the door. Book People sells books - lots of them, all different types - and that's all. Great selection and pricing and proud sponsors of Fantastic Fest 2008, too!
Toy Joy
- 2900 Guadalupe
Word of warning: Toy Joy is not filled with the kind of toys that you never open so it doesn't ruin their value. No, it's filled with the kind of toys that you play with, toys that bounce and do silly things and make passing the time fun. Robots, puppets, bouncing balls, dolls, silly putty, water pistols - in other words, toys! Grownups not allowed without children (OK, we made that up, but it's the way it should be).
Shepler's Western Wear
- 6001 Middle Fiskville Rd.
Allen's Boots
- 1522 South Congress
Austin is not really like the rest of Texas (they kindly put up with us), so if you're looking for the kind of stuff that typifies the great state of Texas - cowboy hats, boots and the like - Shepler's and Allen's are the places to go. If you're in from overseas and figure that you can't leave Texas without a cowboy hat, now you know where to go.
Un
common Objects
- 1512 S. Congress Ave.
"Raw materials for creative living" is the slogan, and may we simply ad, "This place is as cool as hell"? Antique shops don't come any more unique.
Austin Books
- 5002 North Lamar
Pretty much accepted as Austin's premiere comics shop. When Spanish filmmakers
Nacho Vigalondo
(TIMECRIMES) and Koldo Serra (THE BACKWOODS) got into town last year, it was the first place they wanted to go. And if Nacho likes it, you know you should, too.
DINING
Smitty's Market
- 208 South Commerce, Lockhart, TX
Louie Mueller Barbecue
- 206 W. 2nd St., Taylor, TX
Listen, there are a lot of great BBQ places throughout Austin and we love them all, but if you put a gun to our head (which has happened once before) our favorites are unquestionably Smitty's and Mueller's, so much so that we're planning trips to each for our out-of-town guests. We're not going to get into the specifics of what makes these two our favorites - just experience them for yourself.
El Regio
6615 Berkman Dr.
They start smoking the chickens at about 7 AM, and by 11, those in the know are lined up for what I consider to be the best bird that has ever passed my lips. There are only two things on the menu: half chicken ($6) or whole chicken ($11). It comes with a stack of fresh corn tortillas, a roasted onion, rice, and the tastiest, creamy green tomatillo salsa on the planet. There are several stands now in Austin, but my favorite location is 6615 Berkman Dr.
Quality Seafood Market
5621 Airport Blvd, 512-454-5827
Until three years ago Quality Seafood was nothing more than a fine seafood shop, selling fish to restaurants and the public over their retail counter. Then the owner had the epiphany to build a bar in the center of the shop and start selling delectable fried and grilled seafood as finger food. Now it's my personal favorite hangout in Austin. The raw oysters are terrific, as are the catfish beignets.
Parkside
301 e. 6th St
The newest fine dining joint on 6th Street, owned by Shawn Cirquel is a French Bistro inspired restaurant, always with a super-fresh rotating raw bar. Lots of oyster choices, inventive appetizers and desserts, AND it's across the street from the Ritz. Foodies should definitely check out this spot.
Olivia
2043 South Lamar Blvd.
Olivia is brand new and is just down the street to the south from the South Lamar theater. Co-owned and operated by former Alamo executive chef James Holmes, Olivia is warm and inviting, has a wonderful rotating selection of French inspired dishes. Every single dish in both of my long lingering visits has been outstanding. I particilarly recommend his baked oysters as well as the duck risotto. Again, a foodie heaven.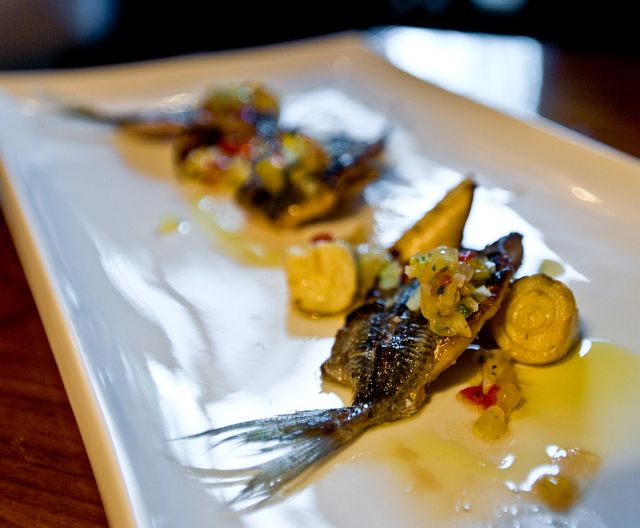 Uchi
801 S Lamar Blvd, 512-916-4808
Within walking distance of the Alamo South Lamar, Uchi is hands down our favorite restaurant in Austin. Executive Chef and co-owner Tyson Cole was named one of the top ten chefs in America by Food and Wine Magazine in 2005 and he was picked to battle Iron Chef Morimoto earlier this year. Uchi features an ever-changing menu of Japanese and fusion dishes; the fish is flown in daily from the Tsukiji Fish Market in Tokyo. Reservations are a must. I'm SUPER serious about my sushi, and Uchi rivals anything I've had in LA or NYC.
Whole Foods Flagship
(525 N Lamar Blvd, 512-476-1206). Whole Foods started in Austin in 1980. Today, their flagship stands as perhaps the ultimate supermarket in the world. Not just a spot for groceries, Whole Foods features a dozen restaurants scattered throughout the store, and enormous specialty gourmet sections. We recommend trying out the cheese plate, hand selected by the Whole Foods Cheesemonger, or the seafood counter restaurant. Surprisingly, Whole Foods features some of the best in-town barbeque as well.
Magnolia Cafe
- 1920 S. Congress Ave. and 2304 Lake Austin Blvd.
Kerby Lane Cafe
- Multiple locations (
click here
)
Katz's Deli
- 618 W. 6th Street
Thai Passion
Downtown 620 Congress Avenue, 512-472-1244
La Mexicana Bakery
1924 S First St, 512-443-6369)
Let's say that it's 3am. The bars and clubs are closed, but you're still up and want to get something to eat. Well, you're in luck, because Austin has not one, not two, but three fine establishments for all-night dining, two of them with multiple locations. The menus are all diverse, but all three will satisfy those late night cravings much better than a microwave burrito from 7-11 ever will.
Jackalope
- 404 E. 6th St.
Casino El Camino
- 517 E. 6th St.
Like most cities, Austin is a town of many bars, so to stand out in a place like this must mean that you're something special. Jackalope and Casino El Camino stand out because they're both cool, unpretentious places to hang out, drink and smoke. The decors are bad ass, the food is damn good (there are some who say Casino has the best burgers in Austin) and the jukeboxes rock hard. Can't make it any simpler than that.
Big Top Candy Shop
- 1706 S Congress Ave
Candy lovers (like our own Zack Carlson) will be in candy heaven when they step inside Austin's latest (and greatest) confectionery shop, filled with tasty treats both new and old served in a classic candy shoppe style. Big Top is also the proud sponsor of the Fantastic Fest feature CHOCOLATE and will be serving free chocolate to those lucky festival attendees who can make it in to this eagerly anticipated flick. For those who can't, all the more reason to visit Big Top!
Mangia Pizza
-
Several locations
Hoboken Pie
- 718 Red River
Many east coasters will tell you that there's no decent pizza beyond Pennsylvania (with Chicago being the sole exception), but Austin has two top pizzerias to prove them wrong. Mangia is an Austin institution serving thick, delicious Chicago-style deep dish pizza for 20 years now with several locations throughout town. Hoboken Pie is new to Austin, but it passes the test of this New Jersey transplant with legit Jersey-style pizza, made (allegedly) using real NJ tap water. (oh, sweet NJ tap water, how I miss you!) Perfect for those 6th St. late night munchies.
Austin Java
-
Several locations
Spider House Cafe
- 2908 Fruth Street
Coffee shops can be so routine, which is why we're pleased to recommend two Austin-centric locations, Austin Java and Spider House. Both offer more than just a cup of Joe - sandwiches, beer, live music - and each offer tranquil, non-corporate, cookie-cutter settings in which to enjoy your coffee. Spider House is also one of the coolest looking hang-out spots in town, but both are recommended if you're just looking to take it easy for a bit.
Tamale House
- 5003 Airport Blvd.
They don't sell tamales for some reason, but if you want a real taco, here's where to go. 85 cent tacos that will make you better, stronger and wiser. But our personal favorite dish is the migas with cheese. Migas are a Tex Mex specialty that you don't want to miss and these are the best. If you can eat more than $6 worth of food at Tamale House you are a mighty bull.
The Alamo Drafthouse Cinema
Beer and burgers while watching movies? Imagine that!
We hope you enjoy your stay while in Austin and please remember that no matter where you go to always buy local!
Below is Google Map to all of these fine establishments:
View Larger Map